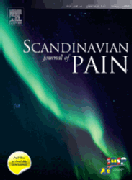 Scandinavian Journal of Pain
Walter de Gruyter
ISSN: 1877-8860 (1877-8879)
- Anesthesiology and Pain Medicine - Clinical Neurology
Green Open Access
You share, we take care
On the basis of the Taverne Amendment (art. 25fa), the publishers' version (PDF) of short academic works can be made available via the university repository 6 months after the first (online) publication. General conditions for participation are mentioned here. Exact implementation may differ per institution. Please contact your university library for more details.
Sherpa/Romeo info
Author can archive pre-print (ie pre-refereeing)
Author
can (with restrictions)
archive post-print (ie final draft post-refereeing) (
12
months
embargo)
Author
can (with restrictions)
archive publisher's version/PDF (
12
months
embargo)
Pre-print and abstract on author's personal website only
Author's post-print on funder's repository or funder's designated repository at the funding agency's request or as a result of legal obligation.
Publisher's version/PDF may be used, on author's personal website, editor's personal website or institutional repository
Authors cannot deposit in subject repositories
Published source must be acknowledged
Must link to publisher version and article's DOI must be given
More Sherpa/Romeo information
APC Discount
Researchers from
EUR
,
RU
,
RUG
,
UL
,
UU
,
UvA
,
TiU
,
VU
and
WUR
will receive a 100% discount on the Article Processing Charges that need to be paid by a
corresponding
author to publish open access in this journal.
More information on this Walter de Gruyter deal.
This deal is valid until 2022-12-31.
NB: APC discount can only be claimed for articles submitted after 2019-01-01
Last updated: 2020-05-29
Impact
Journal Citation Reports
No journal metrics available in JCR
Scopus Journal Metrics (2017)