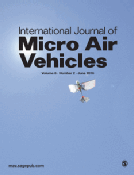 International Journal of Micro Air Vehicles
Sage
2009-
ISSN: 1756-8293 (1756-8307)
Engineering, Aerospace - Aerospace Engineering - unmanned air vehicles - surveillance - drones - micro aircraft - aerodynamics
Green Open Access
You share, we take care
On the basis of the Taverne Amendment (art. 25fa), the publishers' version (PDF) of short academic works can be made available via the university repository 6 months after the first (online) publication. General conditions for participation are mentioned here. Exact implementation may differ per institution. Please contact your university library for more details.
Sherpa/Romeo info
Author can archive pre-print (ie pre-refereeing)
Author can archive post-print (ie final draft post-refereeing)
Author can archive publisher's version/PDF
Publisher's version/PDF may be used
On a non-profit server
Published source must be acknowledged
Creative Commons Attribution License or Creative Commons Attribution Non-Commercial License available
All titles are open access journals
Permission is required for content in the journal not published under a Creative Commons licence
Publisher last contacted on 19/08/2013
More Sherpa/Romeo information
Open Access
APC Discount
Researchers from
RUG
,
UU
,
VU
,
UM/MUMC+
,
UL
,
WUR
,
EUR
,
RU
,
TU/e
,
TUD
,
UT
,
OU
,
TiU
and
UvA
will receive a 20% discount on the Article Processing Charges that need to be paid by a
corresponding
author to publish open access in this journal. Eligible Corresponding Author must self-identify by quoting "UKB2020" in the discount code field on the RightsLink author portal. For Gold Open Access Journals where RightsLink portal is not used, Eligible Corresponding Author must contact apcqueries@sagepub.co.uk to request the discount.
More information on this SageDiscount deal.
This deal is valid until 2022-12-31.
NB: APC discount can only be claimed for articles submitted after 2017-01-01
Last updated: 2020-05-29
Impact
JCR Science Citation Index (2018)
Impact factor:
1.049
Q3
(Engineering, Aerospace (18/31))
Scopus Journal Metrics (2017)
Publishing
There is an average period of 15 weeks between submission and publication of an article